August 2004

Conservation tillage sustainable ag field day showcases research
by Lyra Halprin
[Sustainable Agriculture Research and Education Program Newsletter - Summer 2004 (v16n1-2)]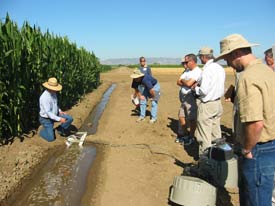 SAFS project leader Will Horwath demonstrates
water monitoring. (photo by Margaret Macsems)
Beautiful weather and fresh produce from local farmers provided the backdrop for a successful conservation tillage/sustainable agriculture field day at UC Davis' Russell Ranch in June. The field day highlighted research results and the evolution of UCD's 16-year Sustainable Agriculture Farming Systems (SAFS) project into a conservation tillage experiment.
California Undersecretary of Agriculture Charles "Chuck" Ahlem, a Hilmar dairyman, noted in his keynote address that model projects like the conservation tillage experiment are important to the future of the state's agricultural industry.
"We need to bring a broader vision to the California Department of Food and Agriculture by working with other agencies on issues ranging from nutrition to the environment and to trade," Ahlem said. He also noted that the department's new mission is focused on the "delivery of safe food and fiber through responsible environmental stewardship in a fair marketplace."
SAFS project leader William Horwath, a UC Davis professor and soil biogeochemist in the land, air and water resources (LAWR) department, noted that the work of the UC researchers and cooperators contributes to those goals.
"Farmers don't have the time or resources to do this research on their own, and helping to provide results and leadership is the role of the University of California agricultural experiment stations," Horwath said.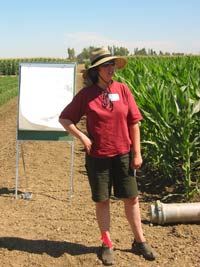 Soil microbiologist Kate Scow shares
soil food web information. (photo by Margaret Macsems)
Some of the most important results from the original SAFS project identified where growers can reduce synthetic fertilizer inputs; how to manage cover crops, crop residue and soil organic matter; and how to manage weeds and pests with fewer pesticides, Horwath said. The project, which began in 1988 with funding from UC's Sustainable Agriculture Research and Education Program (SAREP), developed a much clearer understanding of the economic opportunities and limitations to organic farming practices.
The project has relocated to Russell Ranch, which is also home to the College of Agricultural and Environmental Sciences' Long-Term Research in Agricultural Systems (LTRAS) experiment.
"We're emphasizing conservation or reduced tillage, and the use of non-cash cover crops to improve soil and water quality in typical California cropping systems," Horwath said.
"The new project has a taken on an additional focus," Horwath said. "We're studying the effects of conservation tillage and cover cropping on the way sediment, nutrients, and pesticides are transported off conventional, cover-cropped and organic farming systems."
"We're also looking at the tradeoff between ecological benefits and economic costs in a sustainable system," he said.
In addition to the main plots at the Russell Ranch, the project includes a 14-acre area for companion studies designed to refine management practices for successful use of conservation tillage and cover cropping in Yolo County conditions.
Steve Kaffka, UC Cooperative Extension specialist in the agronomy and range science department and LTRAS director, helped welcome visitors to the field day and site.
Field site presentations
At four separate stations in the field, SAFS researchers presented research information to visitors.
Wes Wallender (UCD LAWR professor, hydrology), William Horwath (UCD LAWR professor, soil biogeochemistry), Aaron Ristow (LAWR graduate student researcher), and Sam Prentice (LAWR post-graduate researcher) discussed water conservation in cover-based cropping systems, runoff monitoring challenges, and the implications for growers needing to comply with upcoming discharge permits.
Dennis Bryant (LTRAS associate director) reviewed the overall facility design, nutrient inputs and differences in the winter legume cover crop, conventional and organic tomato and corn systems under standard and conservation tillage management. Gene Miyao (UC Cooperative Extension farm advisor, Yolo/Solano/Sacramento counties) discussed in-season vs. post-crop tillage, weed control issues and production options in the processing tomato systems. Kent Brittan (UC Cooperative Extension farm advisor, Yolo/Solano/Sacramento counties) covered challenges in stand establishment and yield potential of conservation tillage corn production.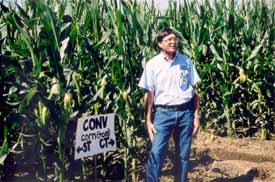 UCCE farm advisor Kent Brittan compares corn yields. (photo by Lyra Halprin)
Weeds in furrow, drip and sprinkler irrigation system comparisons was the topic of the presentation by Jeff Mitchell (UCD Vegetable Crops Cooperative Extension specialist/Kearney Agricultural Center, cropping systems, soil quality, organic soil amendments) and Kipp Sutton (International Agricultural Development graduate student researcher, soil science). Kaden Koffler (Agronomy and Range Science graduate student researcher) talked about maximizing cover crop compatibility with conservation tillage, while Steve Temple (UCD Agronomy and Range Science Cooperative Extension specialist) discussed amplifying crop options for conservation tillage systems with a focus on grain legumes.
Howard Ferris (UCD Nematology professor), Kate Scow (LAWR/Kearney Foundation/Agricultural Experiment Station soil microbial ecologist), and Louise Jackson (UCD Vegetable Crops Cooperative Extension specialist), discussed plant nutrition, the soil food web and pest management.
After the field discussions, Karen Klonsky (UCD Agricultural and Resource Economics Cooperative Extension specialist, farm management), gave a presentation on the economic impact of conservation tillage management systems.
A grower panel discussion, "Farmer perspective on conservation tillage research results: Field application of agronomic and pest considerations," was facilitated by Brittan. Grower participants included Blair Voelz, Paul Underhill, Jeff Main, and Charlie Rominger.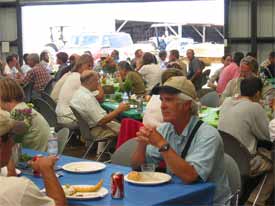 UCCE Marin organic program coordinator Steve Quirt, right, and other field day participants enjoyed lunch at the SAFS/LTRAS facility "barn." (photo by Margaret Macsems).
Participants' feedback indicated that most gained a clearer understanding of conservation tillage, the importance of the soil/food web, and the challenges facing minimum/no-till farming. Most respondents were very pleased with the presenters, particularly with the input from local producers on the grower panel.
For more information about SAFS' conservation tillage project, see the Web site here.
UC SAREP is collaborating with the SAFS project on outreach, including the SAFS newsletter, Web site, and field days.