Spring 2005 - Vol. 5/No. 2
Grower panel: Crop/system diversity is important

By Steve Temple and Lyra Halprin
Four growers representing diverse farm sizes and growing practices repeated a common theme at UC Davis' 2004 SAFS conservation tillage/sustainable agriculture field day: the importance of crop and system diversity. From a farmer who focuses on 20 acres to one who farms in a family operation spanning 2700 acres, they talked about blending row crops, cover and forage crops, orchard crops, livestock and the cultivation of wildlife habitat into their operations.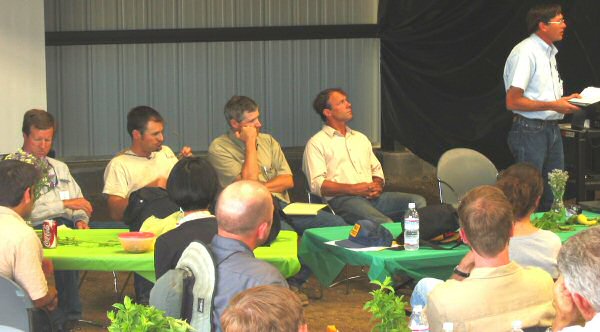 Growers (l-r) Blair Voelz, Paul Underhill, Charlie Rominger and Jeff Main shared information at SAFS field day. Moderator is Yolo County farm advisor Kent Brittan (far right).
The panel, "Farmer perspective on conservation tillage research results: Field application of agronomic and pest considerations," was a highlight of the field day that showcased research results and the evolution of UCD's 16-year SAFS project into a conservation tillage experiment. Facilitated by Kent Brittan, UC Cooperative Extension farm advisor in Yolo County, the panel featured growers Blair Voelz, Paul Underhill, Jeff Main, and Charlie Rominger.
Voelz talked about successes in aerial seeding of bell beans (Vicia faba) as cover crops for the last five years, which he said have produced a more friable soil and a better rice stand. He has seen a 5 percent to 10 percent increase in rice yields since using cover crops, which cost him $50 per acre (seed 100 lbs. per acre @ $.25 per lb., chop $10 per acre, landplane $8 per acre, disk $7 per acre). Downsides include the extra effort required to incorporate cover crop residue, and the difficulty in capitalizing on long-term benefits of his crop management from short-term land leases. Voelz has observed two-foot bell bean growth on rice ground contributing an additional 20 lbs. to 30 lbs. per acre of nitrogen (N), and five-to-six foot growth on row crop ground adding 70 to 80 lbs. per acre of N.
Main, who has farmed "100 percent organically" on 20 acres since 1984, emphasized the diversity in his operation. He plants as many as 64 different tree and annual crops, and cover crops. He said using cover crops provides "a lot more than weed suppression and nitrogen " on his land.
"Cover crops have the potential to do a whole range of jobs for us," he said.
Main noted that most cash crops seem to grow faster after cover crops, and particular cover crops or cover mixtures are more effective in some roles. He said mustards tend to improve drainage in his heavy soils; he has observed that trees planted after broccoli that has been allowed to seed grow twice as fast as those planted after other crops. Main said he uses Sudan grass as a summer or fall nematode-suppressant and lets it grow until frost-kill.
"My cover crop combinations often use two or three species that work together," he said. "That does not create a complete and rapid makeover of the soil, but over time it has made a big difference."
Like Voelz, Main said that he can "drastically change the tilth of our soil over time with cover crops."
Main uses deep-rooted cover crops instead of deep tillage. He said his soil has "not been ripped in 20 years." He buys compost to spread and follows every cash crop with a cover crop.
"We disk cover crops down early and quickly because we need to plant cash crops," he said.
Rominger discussed development of wildlife habitat, farmland preservation, and the federal Conservation Reserve Program goals. He is a partner in a 2700-acre family farming operation; his brother Bruce began organic practices on 10 percent of the land more than a decade ago. He said three-quarters of the land is rented.
Rominger noted that the first field they converted to organic had a great deal of nut grass; three years later, it was gone.
"Nut grass had been a problem when the field was farmed conventionally," he said, "But apparently it couldn't compete with the cover crops."
He has added livestock back into his CT row crop operation.
"No-till leaves time for livestock," he said, adding that goats reduced his weed problems. "They cleaned up the prickly lettuce in two days."
Like other successful CT growers, Rominger is an advocate of variable tillage operations, depending on the crop involved.
"Overall, the trend in our operation is toward more organic, more no-till and less conventionally farmed land," he said.
Rominger said he has used the Allen Savory decision-making framework, which he considers to be "a framework of common sense."
Underhill farms 200 acres organically, including the vegetables and orchards of Terra Firma near Lake Solano in Yolo County.
He said direct marketing has helped his organic operation. He and his partners grow 50 to 60 crops using minimum tillage systems and re-bed every three to four years. The large number of diverse crops requires varying cultural practices.
He uses plastic mulch as well as no-till and pre-irrigation for weed control.
His operation uses sprinkler irrigation for the summer/fall-seeded crops.
Regarding fertility, Underhill said it is not possible to compare his operation with conventionally farmed land, and that for him, cover crop-derived N is relatively costly.
He noted that getting access to equipment that matches the size of his fields is a big problem, adding that sharing equipment is the only way small farmers with irregularly sized fields can experiment with novel CT practices. He said the high cost of appropriate-sized equipment is "putting a damper on growing cover crops in Yolo County." He noted that in Australia, contract planting is in widespread use, a practice that may be helpful for small growers here.
Underhill also asked for more UC efforts to develop crop varieties especially suited to organic production.
"'No-till' is an oxymoron for small organic growers," he said. "Weeds are the biggest problem."
He said he didn't think organic no-till had a big future, but that it would be important to focus on reduced tillage.
All the growers agreed that diversity in crops "smoothes out the highs and lows," and gives them greater stability and increased management options.
Voelz said consumers dictate what he plants.
Main said, "The bottom line is that I continue farming."